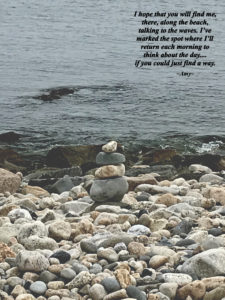 Hope this weekend finds you well!
Here is my Saturday morning poem:
I hope that you will find me, there along the shore talking to the waves.  I've marked the spot where I'll return each morning to think about the day….If you could just find a way. -Amy-
Yesterday I arrived in Rhode Island for a short weekend visit with my daughter.  It's a beautiful part of the earth, and I'm so glad I've been blessed to get to visit this area.
I went to bed not feeling well and woke early this morning, after not sleeping much through the night, and wondered why I may be feeling this way.  Often, when traveling and getting busy I lose track of exactly what I'm putting into my body. And I'm definitely paying the price for not eating well yesterday.
After doing some restorative yoga this morning, just to get my mind right and hopefully my body as well, I feel much better and ready to face our fun day.
I hope, that like me, you'll be more aware today, as we can't control everything around us but we can control what we put into our mouths.
I love this Mindful poem by Anna
"My awareness settled comfortably in the seat of the present moment open to the symphony of life…"
Life is short, why not live!!
Cause I'm not there yet, but perhaps, Soon Enuff