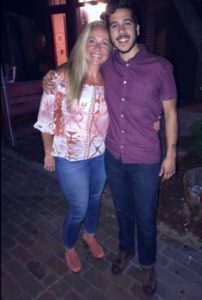 I had a challenge today to write on the subject of "Inspiration."  As I pondered what to write about, thoughts kept coming back to me about my son.
Perhaps because I had him so young, we are very close.  Him, being my first child, I had to grow up quickly, and always strove to be an inspiration to him, but almost 30 years later, I'm realizing he's been my inspiration all along.
I've watched my little boy go through his life, graduating from College, confused about his future plans.  I've watched him struggle with a drug and alcohol addiction, that changed him from a sweet loving child to a mixed up, disillusioned man.  I've seen him struggle with love and loss, winning and losing.  But the thing that most strikes me about him is how he's managed to dig himself out of the pit of addiction and totally change his life around.
There was a time a few years back when we were talking and he was really struggling with some life issues, he asked me, "Mom, how will I ever get over this?"  I remember the pain I felt in my heart, because I knew the answer to the question but wasn't sure it would be good for him to hear it, but I spoke to him honestly.  "You will never fully get over any of it.  But with time, you'll come to appreciate the strong person you are because you just fucking got through it."  It was the best way I could put it to him.  I knew the answer, I've been through it myself, there's just some things in life that you honestly don't ever get over.  You may do good for awhile, a few weeks, maybe even years, but it's always there, and it will raise its painful head again and again throughout your lifetime.  But each time you fight through it, you'll become stronger, you'll see that though it feels like it's killing you, you're still alive, you're still living.
It's funny that now he's my inspiration.  He's turned his life around, become a teacher, an avid rock climber, a lover of nature and adventure.  He's seen me struggle through my life, depression, smoking addiction, exercise addiction, love, loss, winning and losing.  And recently when we were in Oregon, I wondered how I was going to make it through my situation, how I would ever be able to get over things, and he said to me, "Mom, you're never going to, but you're fucking strong, and you're going to keep living."  And he's absolutely right.
I know the parents are supposed to be the inspiration to the kids, helping them see how life should be lived, being good examples.  But honestly, my son, has been my inspiration.  He's helped me want to continue living, to keep trying, when all I wanted to do was stop.  He's helped me see, there's always a way, there's always a new path, there's always a new journey a new adventure to take.
Look for inspiration in your life today, there's something….you may have to dig a little deep for it, but you'll find it.  There's always a reason to keep living, and more importantly a reason to want to.
Peace & love
Cause I'm not there yet, but perhaps, Soon Enuff….